Hey One, If you worry about how to set Jio caller tune so now you no need to worry about it. Today I will teach you about it.  customer's able to set Jio caller tune with three official methods from Jio.
Jio Music
Star (*) To Copy
By SMS
This all three method is from JIO. But in my opinion, the best method for set Jiotune on android is JIO Music. But, I teach you all these methods so let's start with JIO Music.
All these three methods have the same songs and the same movies etc. If you not able to set any song as Jiotune in Jio music so you can't set it from any other method.
You May Like To Read:
1. Set Jio Caller Tune With JIO Music
Open Jio Music.
Find Out Your Favourite Song For Making as a Caller Tune.
Go In the song find Set as Jiotune (As shown in the image)
Now click on Set as Jiotune.
Now you have got a message from Jio as your Jiotune was set.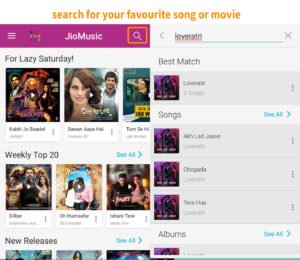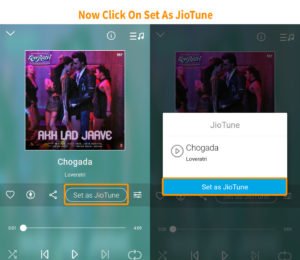 When all the step is done then Jio sent a message That your Jio Caller Tune Is set. This method is very easy to set Caller Tune On Jio. Now Let's talk about the Second Method
2. Set Caller Tune In Jio With Press (*)
This method is also known as a Copy Jio Caller Tune. Means when you called someone who has also Jio sim card and also Caller tune set on the sim card. And if you like that song and if you want to make Caller tune as well as, So you just Press the star.
In some seconds Jio sent you Message for confirmation. When you received the message then Reply them "Y". Now your Caller Tune In Jio was set. And when someone called you Your tune is ready to Impress them.
3. Set Caller Tune In Jio Via SMS
If you able to set Jio caller tune via Jio Music, So I not recommended this method to use. Because this method is very lengthy and you can't easily find your Favourite Songs or movie easily. so that this is the reason I don't recommend this method. Let's start a process,
Open Message App.
Send JT on 56789.
Now you get the message from them.
This message is for the select specific song for set caller tune in Jio. Let's see in broad about it.
If you want to Bollywood song as Jiotune so Reply 1.
Like your Regional songs

and want to make as Jiotune so Reply

2.
International song means English songs Reply 3 for the International song as Jiotune.
For any specific songs Reply First 3 words of songs if the song is available so Jio will reply you.
You like any movie and want to see all the song of the movie so reply MOVIE <Movie name>
Reply ALBUM <Album name> For any particular Album and Reply SINGER <Singer name> for any particular singer's playlist.
When you choose your song for Caller tune in Jio then Jio sent you message for confirmation. In the confirmation message you need to Reply "Y" and now your Caller tune In Jio is set and wait for playing.
Reference: Official Jio site
Conclusion:
We try to cover all the method and Tricks so, We hope you like this blog and solve your problem about Jiotune. If you like so you can share with your friends and family. Thanks for reading us.