Keeping track of your ovulation and fertility is important if you want to become pregnant, as just as much if you do not want to get pregnant.
Fertility apps are developed to help manage the signs and symptoms of fertility, keep track of your ovulation period, and more.
Check out some of the best fertility apps below on how to help you understand and track your ovulation period.
Clue Tells You Everything There Is to Know About Your Ovulation Period
Meet the Pioneer of Online Fertility Tracking
Get the Most Accurate Results with Mira
Everything You Need Is with Ovia
Understanding Your Reproductive Health Better with Glow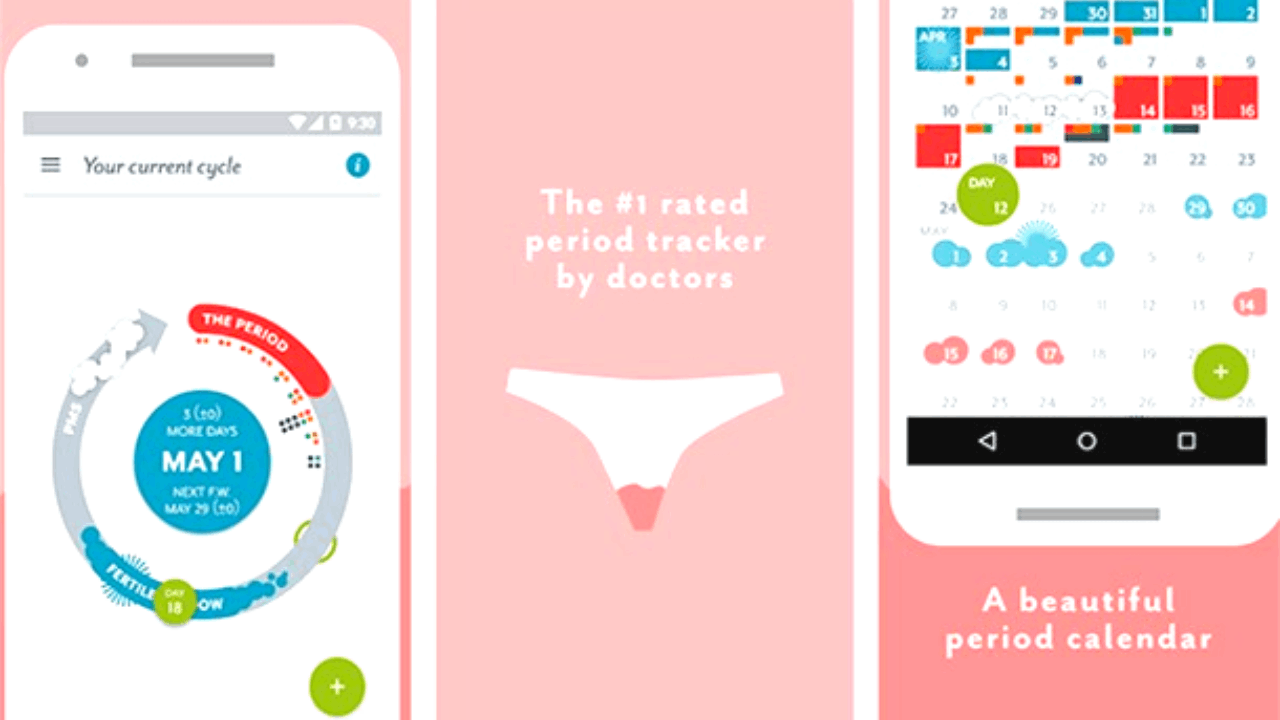 Clue Tells You Everything There Is to Know About Your Ovulation Period
Ovulation can be difficult to track, especially if you have an irregular period. Having an app that guides you through all the phases of your menstrual cycle can help you make sound decisions around your cycle.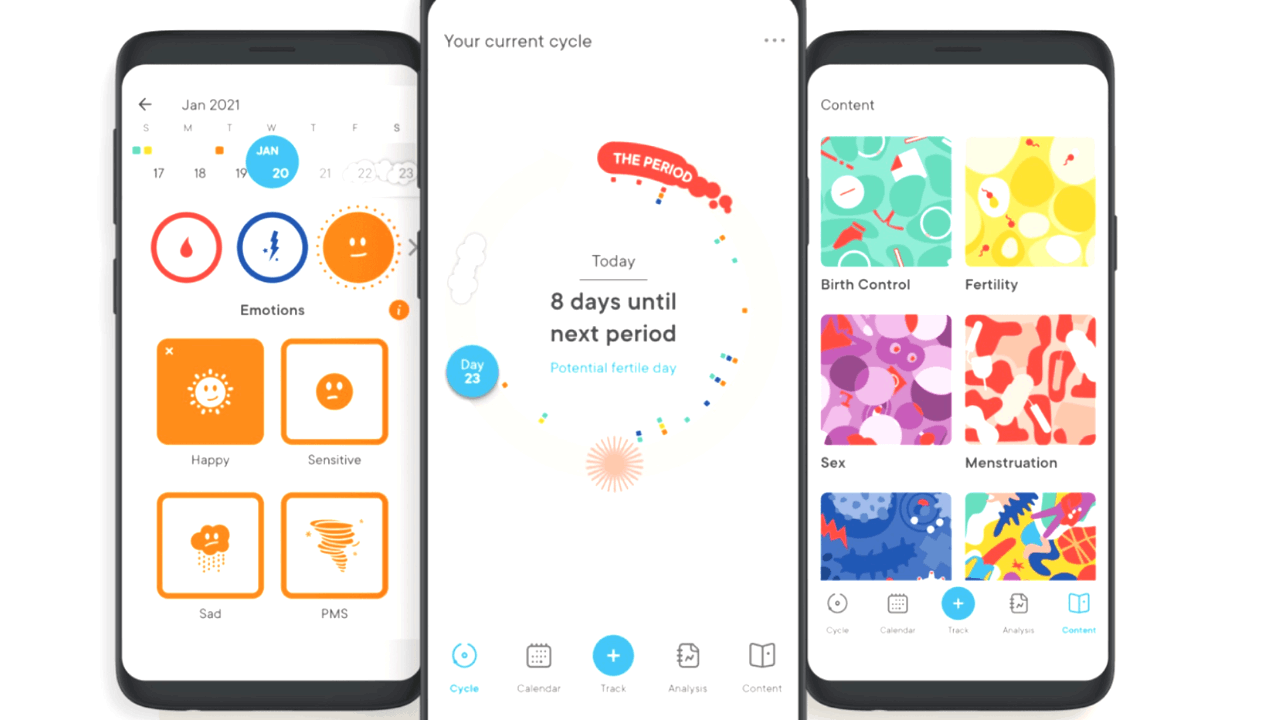 One of the best ovulation tracker apps is Clue, a comprehensive tool to help you during your time of the month.
To begin tracking your cycle with Clue, you must register an account after downloading the app. Then, log in to Clue and provide information such as how you're feeling, your energy level, mood swings, if you're bleeding or spotting, or types of discharge present.
It will then analyze all of this information and provide you with details on what to expect in the following days. This helps you expect many different things including your upcoming fertile period up until the next few weeks after your ovulation period.
What's So Great About Clue?
The very best thing about Clue is that you don't need to pay to use the app. While the app does offer a subscription, the basic version continues to offer what you need. The app uses a science-based algorithm which means the data provided to you is taken from a real source.
With its clear interface and simple navigational tools, you can see all of the information you need to know based on the data that you have provided. Clue tracks down all of your symptoms and provides you with detailed information on what to expect.
The comprehensive tracker allows you to make informed decisions based on the data it provides.
Meet the Pioneer of Online Fertility Tracking
Hopeful moms will find the Fertility Friend app helpful to have on their mobile devices. This fertility and ovulation tracker is one of the best in the industry. It helps you observe, track, and record all of your fertility signs during and after your ovulation period.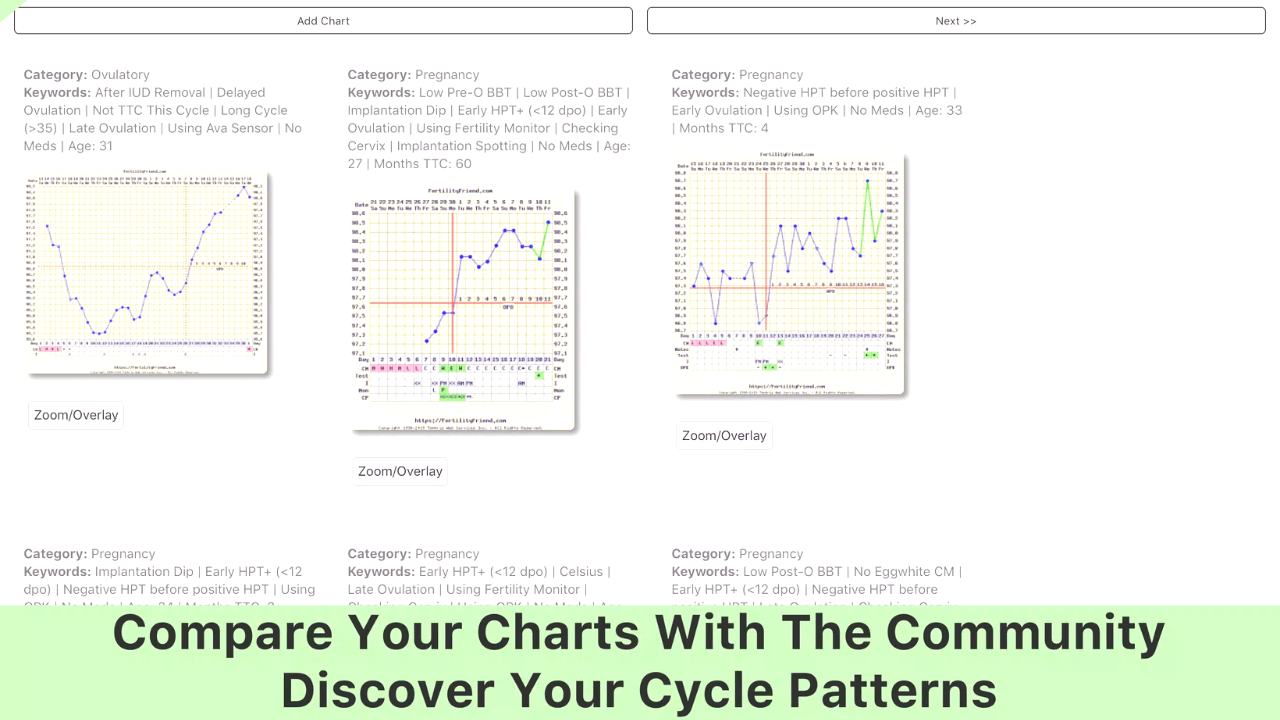 The app then provides you with information on when it is the best time in your monthly cycle to get pregnant and when you should take a pregnancy test. The app is free to use but also offers a yearly subscription for $45.
With the premium membership, you get access to message boards where you can discuss your experiences with other members. You can even get sound advice from many other women who have the same struggles as you.
There are also advanced features with the premium membership such as advanced data analysis when it comes to monitoring your cycles as well as your fertility data and basal body temperature.
Why Choose Fertility Friend as Your Fertility Tracker App
There are a lot of things to consider when it comes to choosing the best fertility tracker app. While many apps offer comprehensive details about your fertility and ovulation, Fertility Friend has over 15 years of experience, and has collected hundreds of thousands of data.
This ultimately means that you have everything you need to guide you through your journey. Fertility Friend features an advanced ovulation calculator, menstrual calendar, period tracker, fertility chart, and more.
Track your period and all of your fertility signs with the help of your basal body temperature and the app will alert you when your ovulation date begins. All of these are available to you when you download the app.
Get the Most Accurate Results with Mira
While many of these online tracker apps rely on the information that you put into the app, there is one that provides you with the most accurate results – Mira.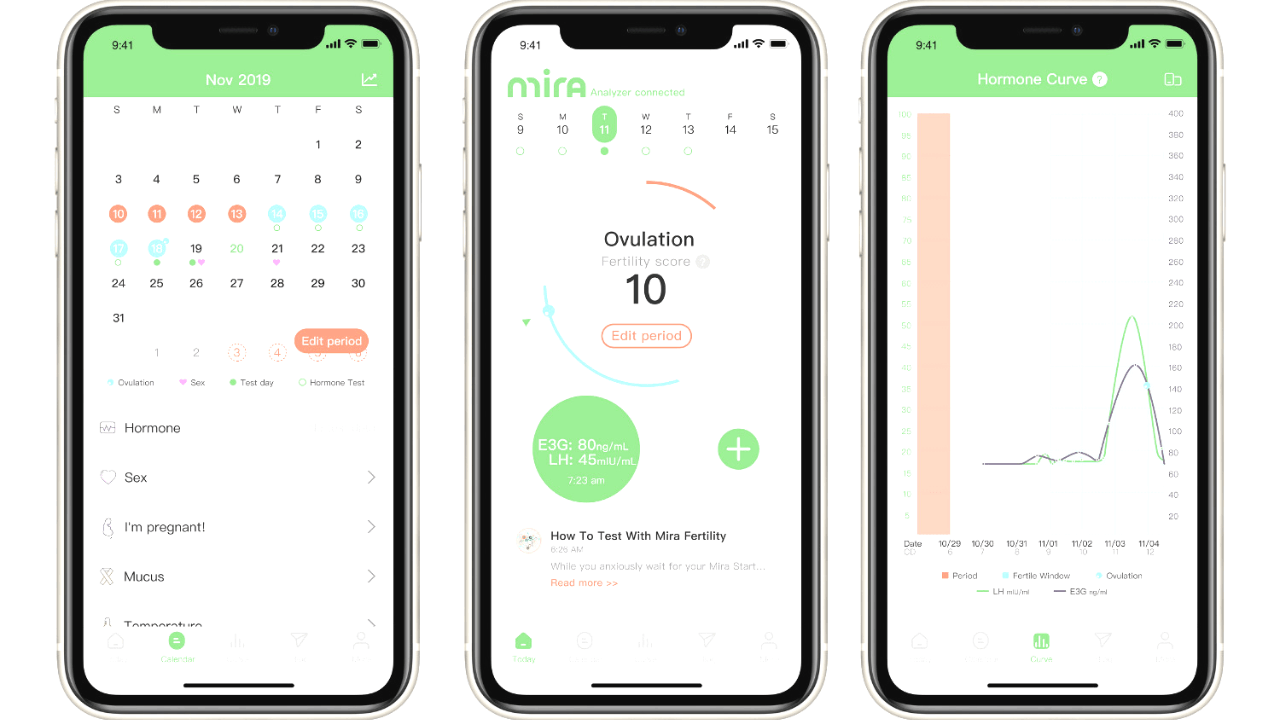 Mira requires you to purchase a fertility tracking kit that has several devices, such as a fertility analyzer. It requires that users take a urine sample in the morning and then place it into the analyzer.
The results will then be available in the next 16 minutes and they will be transmitted to the app. Mira will then provide you with information including your fertility window and hormone levels.
The app is also suited for women with health issues like PCOS and other conditions that affect their menstrual cycle. By having the test, it will be a lot easier to track your hormone levels and many other data.
The Pros of Using the Mira Fertility App
There are a lot of advantages to using the Mira app to track your ovulation and fertility period. It tracks all of the important hormones such as estrogen and progesterone which will give you an idea of how close you are to your ovulation and fertility.
The app also provides you with all the information based on the data collected from the fertility kit. The kit is small and portable and the entire procedure is non-invasive. You don't have to have a medical professional just to check and monitor your period.
And while the kit does cost more than your usual ovulation tracker, it is an investment worthy of your time and money.
Everything You Need Is with Ovia
A lot of apps offer you the option to track your ovulation and fertility based on the information that you provided. Some even feature a paid subscription to get even more features. Ovia is an app that gives you all of these for free.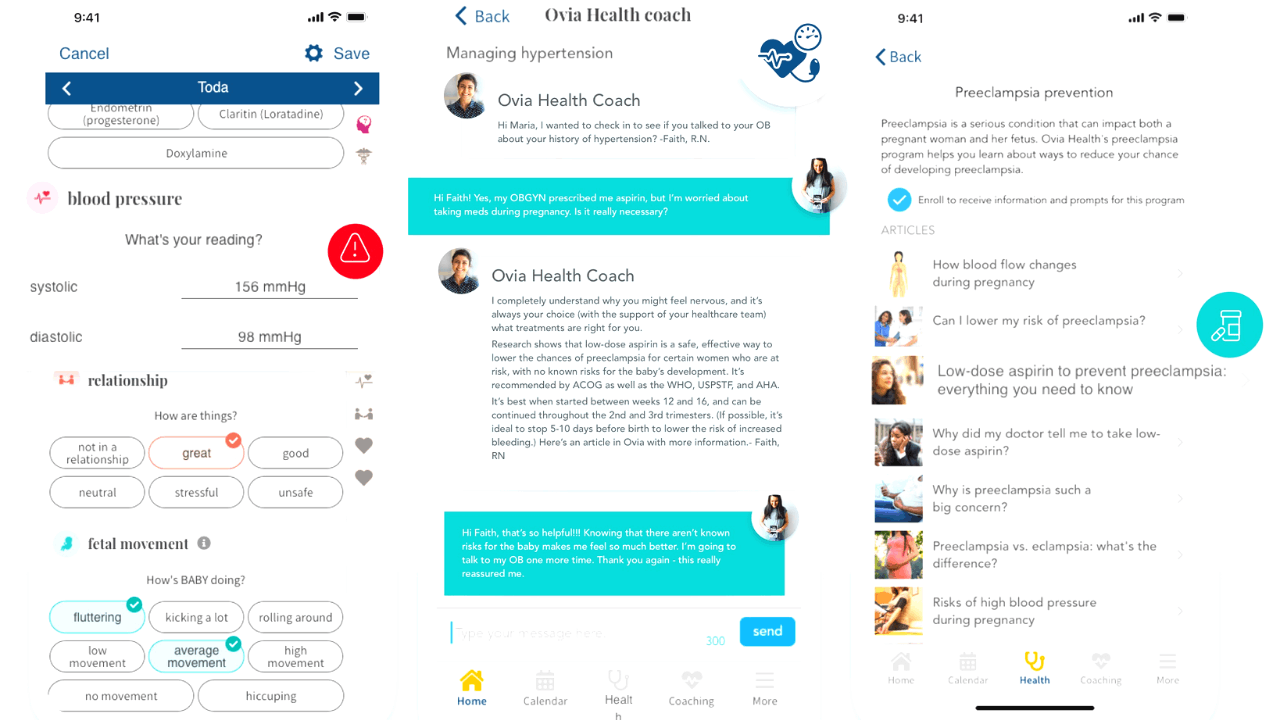 Ovia lets you track your fertility period by inputting the data into the app. It then provides you with a prediction on your fertility window and even has a daily fertility score so you'll better understanding the upcoming days of your cycle.
The app also features different metrics to track such as your wellness, exercise, sleep, mood, and many more.
All of this information can also be shared with your partner so they will also know your fertility period and both can decide if it is the best time to get pregnant.
How and Where to Download Ovia
Ovia is available to download at the Google Play Store and the Apple App Store. Search for the name of the app and tap "Install" or "Get" to begin.
Wait until the app is fully installed before tapping "Open" to launch it. You will be asked to create an account before you can use the app.
You may also input your health plan information to unlock other features and tools such as health coaching, personalized content, and many other programs related to your reproductive health.
Understanding Your Reproductive Health Better with Glow
Glow is another fertility tracker app that can help you conceive faster. It helps you understand and track your fertility cycle using your personalized data and analyzing it.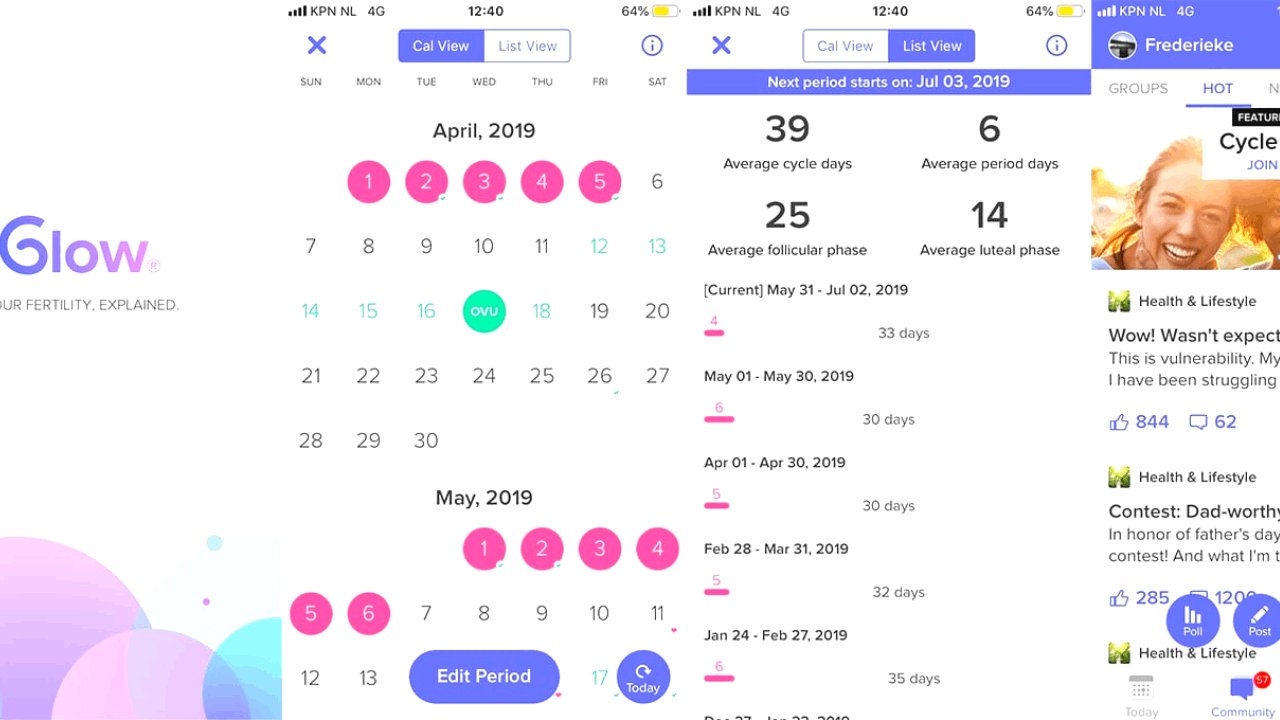 The best part about using this app is it also lets you compare to other women, especially when it comes to symptoms.
The app also tracks the different stages of your menstrual cycles to help you prepare for the upcoming symptoms that you may experience.
The developers of Glow understand that every woman who undergoes such an experience is different from the next hence information is key to understanding your reproductive health.
Learn More about Glow and Its Wide Array of Features
Glow is free to download and use through the Google Play Store and the Apple App Store. Users can also unlock the premium version for $60 a year or $80 for a lifetime subscription to the app. You also unlock guided meditation to use during times of stress or overwhelm.
Different charts help you connect the dots of your cycle and moods, as well as recommendations based on the data that you provided and from others that you have compared it to.
The best part about using Glow is the collaborative aspect with your partner. Your partner can also provide information about their health so you will also get the full experience as a couple.
Conclusion
Your fertility journey is a massive undertaking and can have its highs and lows. Fortunately, there are a lot of fertility tracking apps that tell you what's going on with your body so you don't have to go through it alone.
The apps mentioned above are specifically designed to help you understand your body more along with helping you on your journey, while provide low cost or no-cost features.